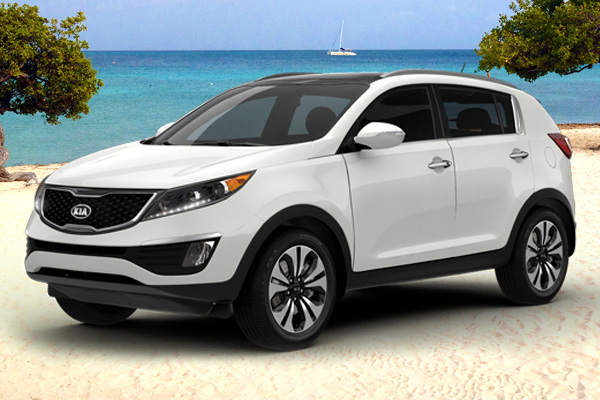 Kia Sportage – Hyundai Tucson –

Or similar

Per Day
Week Sp.
Jan-16-2018 to Apr-08-2018
$70.00
$350.00
Apr-09-2018 to Jun-30-2018
$65.00
$315.00
Jul-01-2018 to Sep-30-2018
$62.00
$300.00
Oct-01-2018 to Dec-17-2018
$60.00
$295.00
Dec-18-2018 to Jan-15-2019
Blackout dates
Call office or toll free
Jan-16-2019 to Apr-30-2019
$70.00
$350.00
Late Hours
0 to 1hr.
1 to 2hrs.
After 2hrs.
Late fee
$38.00
$53.00
Extra day
This rate is applicable on reservations made on the website only.
Tax of 10% is not included in the rate!!
---
Prices are in US DOLLARS.
We have free pick ups and delivery.
Pick up days are from Monday to Friday between 8:00 am to 5:30 pm.
Tax of 10% is not included in the rate!!
License plate fee $1.50 per day.
Only discount card accepted by Jay's is the VISITARUBA PLUS CARD.
Minimum age to rent a vehicle is 23.
ASK FOR OUR LONG TERM SPECIALS.
"3 weeks and up" – We do offer the Midsize for $25.00 per day plus tax with cash or credit card
We ask for a deposit of minimum $300 – cash or with credit card.
All deposit held on credit card will be automatically released by the bank and may take a couple of days, for European credit cards and Panama, the hold will be released in 43 days as per "Bank Policy."
Reservation cars will be held for 2 hours after pick up time. If we do not receive any notification about your pick up / arrival we will not keep the car.
No vehicle can be left in the public parking lot of the airport without notifying our office first.
No vehicle can be left to be returned by friends, all drivers must be registered on the rental agreement.
Please read our terms and condition, if you might have any questions we will be happy to answer you.